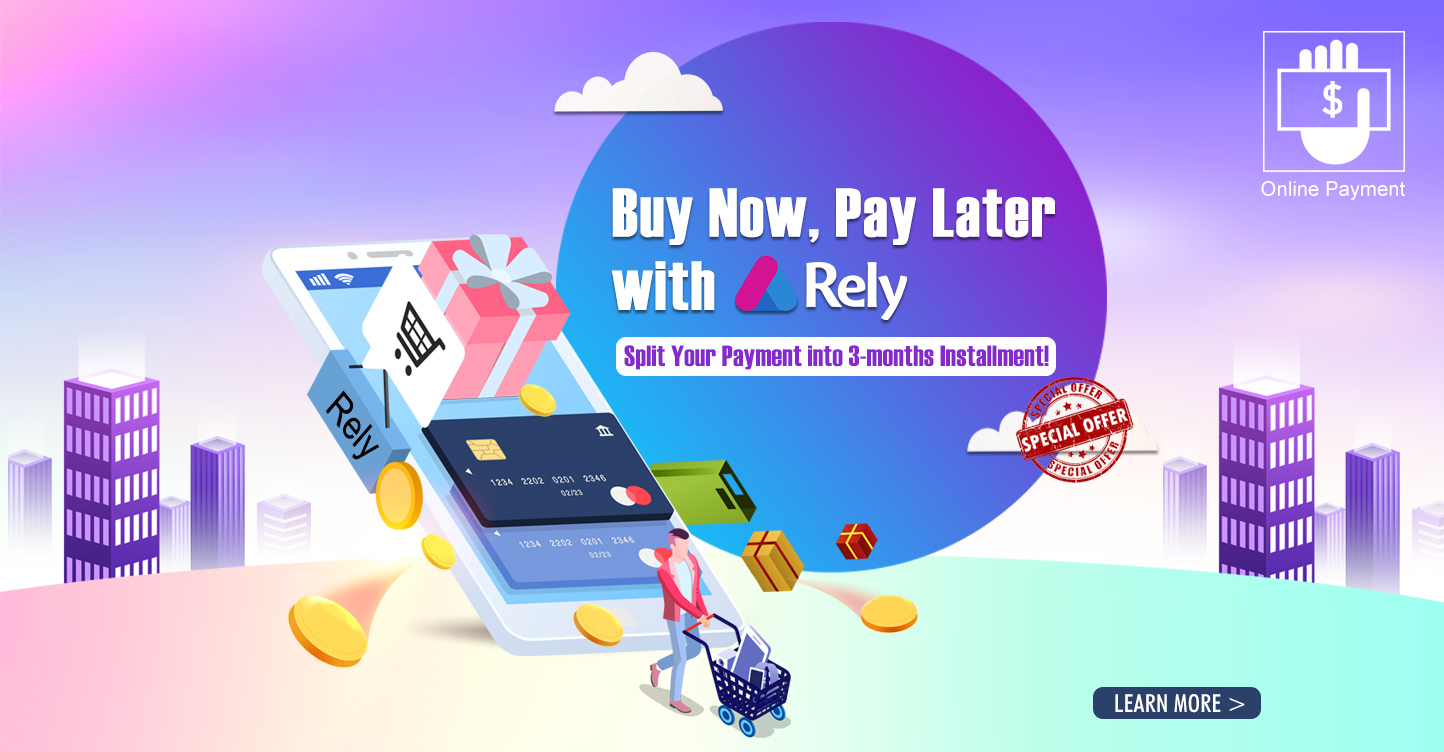 Dear valued customers,

Good news! You can now place order with us and pay later in 3 months' time! Introducing new payment method: Rely – Buy Now, Pay Later, which is a third-party payment method that allows you to split purchase into three interest-free payments, due every month, for the ease of making bulk purchase and better management of your spending. Wow! This is super useful for local resellers and frequent online shoppers!

It is now available for all Buy-For-Me, SmartShop and Ship-For-Me services, Rely payment option can be found when you are checking-out for Purchase Order, Delivery Order and Price Discrepancy. However, it is currently not available for top-up.


The most excited part is, you can give Rely a try in this launching promotion! Place Purchase/Delivery Order from 13th March to 13th May 2019, select Rely to pay later in three months' instalment, you will enjoy discounted transaction fee at ONLY 2.5% + S$0.30** while the usual rate being 5.8% + S$0.50. That means the promotional rate is even LOWER than credit card transaction fee!

Sounds like a great deal? Try Rely to Buy Now, Pay Later!
www.sgshop.com/rely/buy-now-pay-later


How to use Rely as payment method?
Step 1: Choose Rely as your payment method at purchase/delivery order checkout
Step 2: You will need to activate Rely account (takes less than one minute for new Rely user; if you are existing Rely user, just login and proceed) and complete your purchase.
Step 3: Rely will process and approve your transaction request in 1 working day (also for new user; if you are existing Rely user, your request will be approved instantly).
Step 4: Once Rely approves your transaction request, your SGshop order will be processed as usual.
*Note: Kindly make sure you pay to Rely according to the schedule, your Rely credit limit will increase if you maintain good payment habit.


**Terms & Conditions:
1. This activity is valid from 13th Mar 2019 to 13th May 2019;
2. This activity is applicable to Purchase Order, Delivery Order and Price Discrepancy under all China "Buy-For-Me", "SmartShop", "Ship-for-me" and USA "Ship-for-me" services;
3. Pay with Rely as low as $20, and up to your initial Rely credit limit of $1,000;
4. No credit card needed, however, it is compulsory to bind your Debit Card to Rely account;
5. Refer Rely FAQs for more information;
6. Refer Rely Payment for more information;
7. SGshop reserves the right of final explanation.


Enjoy Shopping,
SGshop