Ship For Me Service:
As the Ship For Me service is meant to be used as an independent freight forwarding service for your parcels overseas, shoppers are not charged any service fees. In the same vein, shoppers will be responsible for all communication with the merchants. Shoppers should contact the merchants directly for any issues or discrepancies. In this light, after-sales service is not provided. If you would like to enjoy the after-sales service for your purchases, we highly recommend you use our Buy For Me service which includes inspection services and after-sales services.


Ship for me (China)
1. Sign up at SGshop and receive an address in China.
2. Send your purchases to the address in China.
3. When your package arrives at the address, pick and pay for your preferred choice of delivery.
Cost of international shipping from China to Singapore (China to SG)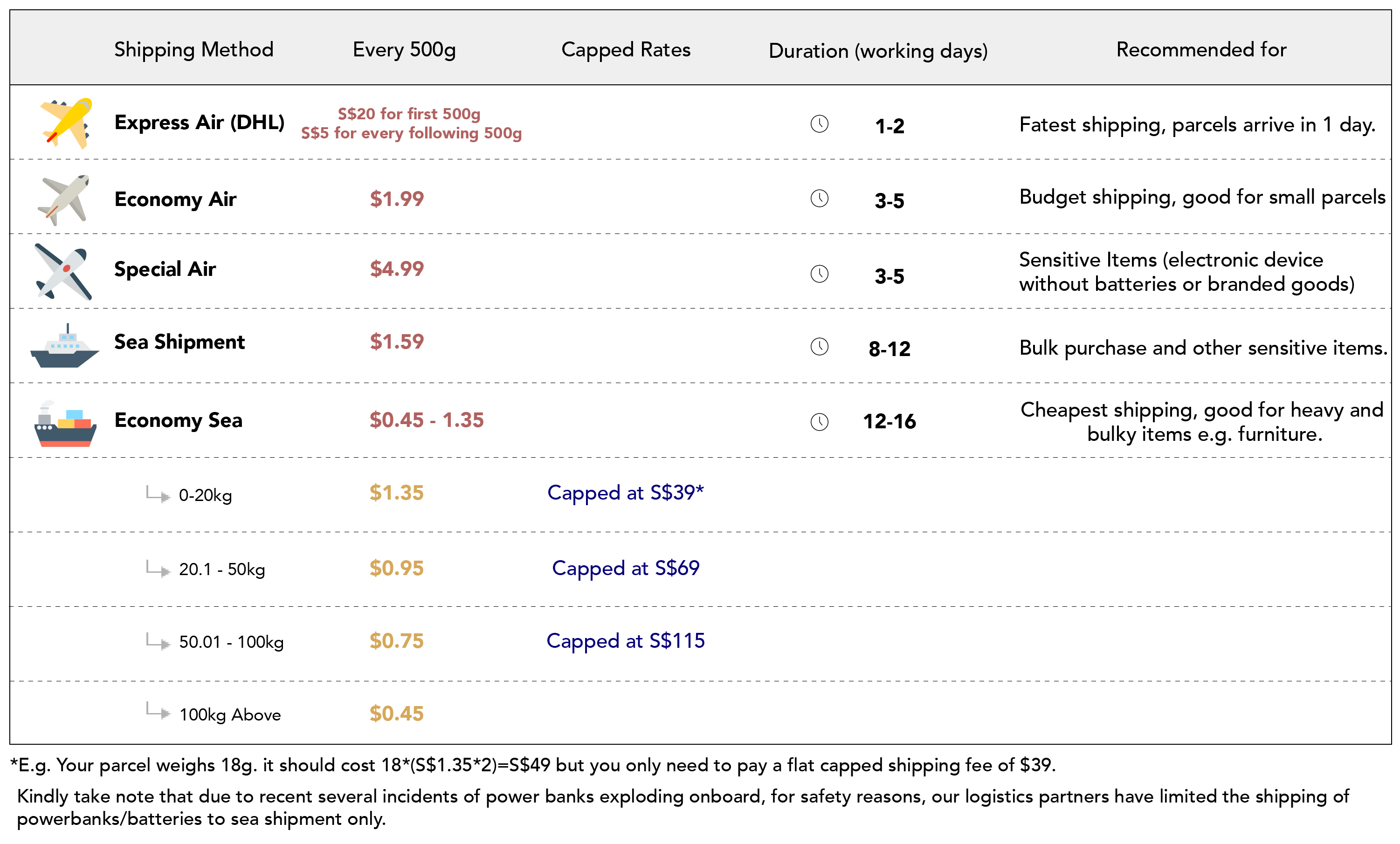 The cost is calculated by either the product weight or its volumetric weight - whichever is higher. This is standard practice by international couriers. For example, if you purchased a bolster, it is light in weight but it takes up a fair bit of space. In this case, the shipping cost will use its volumetric weight instead.
This is how volumetric weight is calculated:
Volume Weight (kg) For Air Shipments
= Length (cm) * Width (cm) * Height (cm) / 5000
Volume Weight (kg) For Sea Shipments
= Length (cm) * Width (cm) * Height (cm) / 6000

*Volume Metric Weight is applicable for both China and USA ship for me.
Ship For Me (USA)
SGshop's USA Ship For Me service is a forwarding service where we help to ship your parcels from USA to Singapore. You can shop with a personalised U.S address found in your account at any U.S website and we will take care of the rest. You only need to pay for the shipping fees once the parcel arrives at our Singapore warehouse.
* Do note that all payment, pre-sales and after sale issues are to be settled directly with the merchant yourself.
How to use USA Ship For Me?

1. Sign up and receive an address in the USA.
2. Send your purchases to the US address.
3. When your package arrives at the US address, confirm the parcel's details to clear customs.
4. When your package arrives in Singapore, pick your preferred choice of delivery.
Cost of international shipping from the USA to Singapore
| | | |
| --- | --- | --- |
| Shipping Method | Every 500g | Duration (Working Days) |
| Standard Air Shipping | $3.99 | 5-7 Days |
USA Ship For Me Procedure
1. Order your item from online merchant:
a. Place your order with an online merchant, either through links on SGshop website or directly from the merchant's website. Pay the merchant directly for the product you purchase and the domestic shipping cost (if applicable) for your delivery to your SGshop USA address. You agree to comply with any conditions and restrictions of sale which are specified on merchant's website or which you are notified of during the purchases process. .
b. SGshop makes no representations, warranties or guarantees regarding the quality or suitability of the products you order.
2. Ship your item to our USA address:
a. Upon successful registration of an account with SGshop, you will be given a USA address which you may then provide to online merchants as a delivery address when purchasing products.
3. We will ship them to Singapore:
a. Under your SGshop account, submit a new order with the tracking number you receive from the merchant. We will then update the status of your parcel when it arrives our USA warehouse.
b. Once your package is ready, you will receive a notification from us stating that "items have arrived in USA warehouse".
c. We will repack your parcel (to minimise volumetric weight) and ship it to Singapore. Inspection is not provided.
d. When your parcel arrives at our Singapore warehouse, we will notify you to make payment for shipping, as well as arrange for delivery/collection.
What is repacking service about?
When you use the Ship for Me (USA) service, SGshop helps to repack your items in order to reduce the parcel's volumetric weight. This is to reduce the costs of international shipping.
Main benefits of repacking:
1. Reduce costs of international shipping: We will repack items with a high volumetric weight to reduce volume. On average, shoppers
save about 50% in volume, cutting international shipping fees by half!
2. Protects your package during shipping: Added protection and security, which is especially great for fragile items. This will prevent
damages to your items during the shipping process.
Terms & Conditions of Repacking:
1. We do not open inner wrapping, such as cling wrapper packaging.
2. We do not repack specialised & branded packaging done by the merchants, such as designed boxes.
3. Items that are gift wrapped will not be repacked.
4. If you are shipping items that are fragile or need to be handled with special care, please ensure that there is proper packaging done by the merchants as we do not repack fragile or breakable items.
5. If the difference between the product weight and volumetric weight is less than 3kg,the repacking service is not applicable.
6. SGshop cannot ship items that are prohibited or require special handling. Please refer to this list for more information on prohibited items.

Loss of parcel:
Loss of parcel Should your parcel go missing, whether in our warehouses or anywhere during the international shipping process, please follow this procedure:
1. Submit an Enquiry/ Email to aftersales@sgshop.com
2. Provide the purchase records of the missing items.
3. Declare the monetary value of the missing items
4. Wait for our response.
Please allow 3 business days for SGshop to address the issue and provide further assistance. Possible compensation is based on the declared amount.
Please note that declarations submitted more than 3 working days after you receive your parcel will not be processed by SGshop. Items which customers have received and confirmed to be in good condition, will not be eligible for disputes.